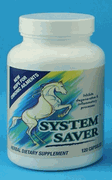 Biotrope, Inc. introduces a safe, effective plant-based alternative to corticosteroids, non-steroidal anti-inflammatories (NSAIDS) and immunosuppressants.
These capsules have been formulated for medium to large dogs (small dogs just divide the capusules). One bottle (120 capsules) is a 1-2 month supply for a large dog.
Without side effects, System Saver manages the processes underlying chronic disorders such as:
Arthritis
Dermatitis 
Inflammatory Bowel Disease
Respiratory Disorders Chronic Inflammation
Geriatric Support 
Chronic Degenerative Conditions
System Saver's unique mechanism of action is unlike any other product.  Its dual action:
inhibits chronic inflammation (caused by TNF alpha and other cytokines)
inhibits tissue degeneration (causes by metalloproteinases and other enzymes)*
"FOR OUR DOGS and our equines, System Saver is a life saver.  We swear by it - and sometimes, it helps our animals feel so good they're naughty enough for us to swear at it too!" --Suzanne Clothier, trainer & author of BONES WOULD RAIN FROM THE SKY
Here is the Biotrope Inc/System Saver homepage.