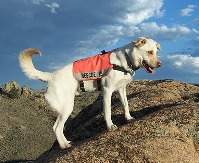 Dunder the Search Dog (aka PoL Moses), is a yellow lab/golden retriever mix. Dunder was found at the Animal Rescue League in Ankeny Iowa in spring of 2008. That spring/early summer, he was fostered by several SAR dog homes and finally came to live with Robin, Exective Director of Paws of Life in June. Their first training was with the FEMA Task Force from Missouri the day after Moses moved in. Here is a link to video of Moses learning how to bark for his toy, which becomes how he alerts on the scent of someone who is lost.
Dunder also really enjoys agility and other types of activities. You can check out a couple additional videos at the Paws of Life YouTube channel.
You can follow his current exploits through Twitter and Dunder the Search Dog on Causes.
Dunder the Search Dog (aka PoL Moses)
Born: December 2007
Weight: ~65lbs
Eyes: Amber
Gender: Male (nuetered)
Deploys with: STAR 1 Search and Rescue (IA), Iowa Task Force 1 and candidate with Nebraska Task Force 1
Certifications held: FEMA Type I Canine Search Dog, NASAR Type 1 Area Search Canine, AKC CGC
Favorite toys: Tug toys, Frisbee's, balls of any nature, any stuffed animal he can tear apart, Ella the cat and Rae the puppy (his little sister).
States visited: ~23
Seminars taught: ~7
Cute things to note: Airplane ears and tends to 'woo woo' when he's excited instead of actually barking.

More Videos

Dunder performing directional control (.mov) with a visiting Korean Emergency Management Professional

Dunder working the pallet pile (.mov) in Texas for training

Paws of Life has partnered with 1800Prepare.com to promote search and rescue dogs and highlight the great service they do.

When you purchase something from 1800Prepare.com and use the code "Dunder" they will provide a portion of the proceeds to support search dog handler education.